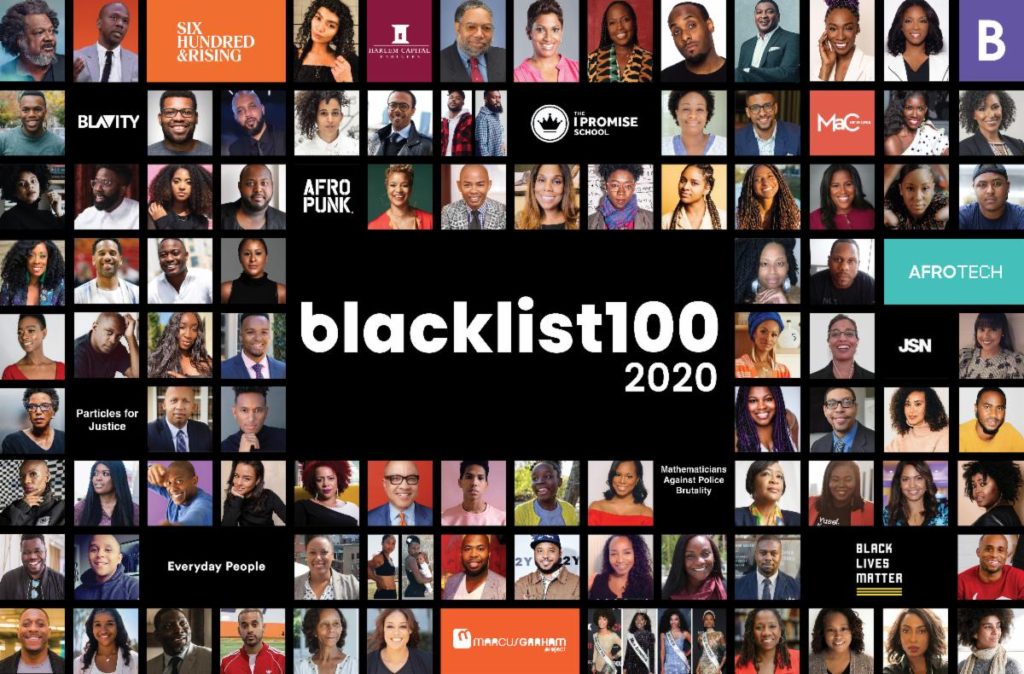 2020 Marks the Inaugural Year of the Digital Book Celebrating 
100 Black Culture-Makers and Thought-Leaders
Following the recent launch of the Juneteenth Image Capsule (JIC) campaign – a future-forward, all-digital movement designed to comprehensively celebrate Black culture and Blackness – the next phase of the JIC initiative will continue with the release of the inaugural blacklist100. Curated by media executive, author, Columbia University lecturer and JIC creator Kai D. Wright, the blacklist100 is a unique digital book spotlighting and celebrating 100 Black culture-makers and thought-leaders across various industries.
blacklist100
The blacklist100 was created to amplify emerging voices within the Black community representing bold, innovative and culture-making thought-leadership. This inaugural list contains 49 females, 36 males, and 15 teams, all hailing from the African Diaspora including, but not limited to: the United States, Haiti, Ethiopia, and the West Indies, to name a few, with individuals being recognized in five categories including:
Cause & Community
Industry & Services
Marketing, Communication & Design
Media, Arts & Entertainment
STEM & Healthcare
The inaugural list includes, for instance:
Teams 
I Promise Academy – The public elementary school in Akron, Ohio supported by the LeBron James Family Foundation.
Harlem Capital – Diversity-focused venture capital firm on a mission to change the face of entrepreneurship by investing in 1000 diverse founders over the next 20 years.
Everyday People – "The World's Coolest Day Party" according to Vice, Everyday People (EP) is an event and cultural platform that celebrates the diversity of Black culture.
Afropunk – The annual mixed arts festival has brought together Black culture-makers through a lens of music, fashion, food, and art. The celebration of culture has expanded over the past 15 years, growing its reach worldwide.
Individuals 
Bozoma Saint John – Businesswoman and marketing executive who was just named Chief Marketing Officer (CMO) at Netflix.
Maverick Carter – Long-time business partner of LeBron James and the two have formed a new company new media company, SpringHill Company (already securing $100 million in funding) that the founders state will be "a maker and distributor of all kinds of content that will give a voice to creators and consumers who've been pandered to, ignored, or underserved."
Dr. Kizzmekia "Kizzy" Corbett – Viral Immunologist and lead researcher for the U.S. government responsible for developing a COVID-19vaccine).
Omar Johnson – Marketing guru whose full-page NY Times ad delivered a wake-up call entitled Dear white Corporate America.
Angelica Ross – Businesswoman, actress and activist in the movement for transgender and racial equality. She also stars in Ryan Murphy's hit FX series Pose.
Christena J. Pyle – The Executive Director of Time's Up Advertising who has dedicated her time to build an industry that is safe and fair for all women.
Jessica Matthews – Founded Uncharted Power to provide clean, low-cost energy and data through a renewable power infrastructure. Matthews invented the  SOCCKET ball – an energy-generating soccer ball that provides off-grid power for the developing world.
Excerpt: blacklist100 – Curatorial Statement
Go beyond celebrating these individuals. Celebration is not enough. Starting today, share their profiles within your organization or network & immediately contact them to hire them….. to advise you, your team or organization through a virtual talk/event, to keynote programming for conferences, to serve in your influencer relations efforts, to fill your candidate pipelines, to serve as career/personal coaches, to collaborate in creative campaigns (from the beginning), to discuss trends and lessons, to train & teach others a new skill, and most importantly, to catalyze your commitments to change.
Whatever your business need, these 100 experts represent a starting point for action. Use this guide regularly as go-to-resource, join the online blacklist100 community, and keep telling others about Black talent on your radar. Knowledge is power. Pledge to action…Welcome to the 2020 #blacklist100.
For more information on the blacklist100, to see the complete 2020 list, to get the 170-page e-book resource, and to start sharing their profiles with one-click to email/socials, please visit: 
www.blacklist100.com
.